Sports at St Mary's
Cross Country Individual Races
Beaminster
Tuesday 29th November
Beaminster Cross Country Race
By Matilda
A couple of weeks after the Colmer's Hill run, the Beaminster Cross Country Indiviual Races took place. Arguably, Beaminster race is much harder than the Colmer's, with a distance of 1.5 miles. On a chilly Tuesday, the children said goodbye to their fellow friends and drove to Beaminster Secondary School. The runners loved having time off school. Year groups 3-6 went, with a wide range of children. Here were the overall scores;
Overall Score
Elizabeth (Y6) – 1st
Matilda (Y6) – 4th Otis (Y4) – 4th Lauren (Y4) - 5th
Isabel (Y6) - 7th Lilly (Y6) - 11th Willow J (Y4) - 15th
Kamila (Y5) - 21st Nate (Y5) - 21st Rieko (Y5) - 23rd
Mason (Y4) - 23rd Evie (Y3) - 24th Joseph (Y4) - 24th Aneila (Y3) - 25th Stuart (Y5) - 26th Carter (Y4) - 27th
Eve (Y5) - 27th Poppy (Y5) - 30th Olivia (Y5) - 38th
And even better... because of our high scores, the year 6 girls won! They brought back a cup for our school. We are extremely proud of all our runners.
Kenway Cup
Friday 25th November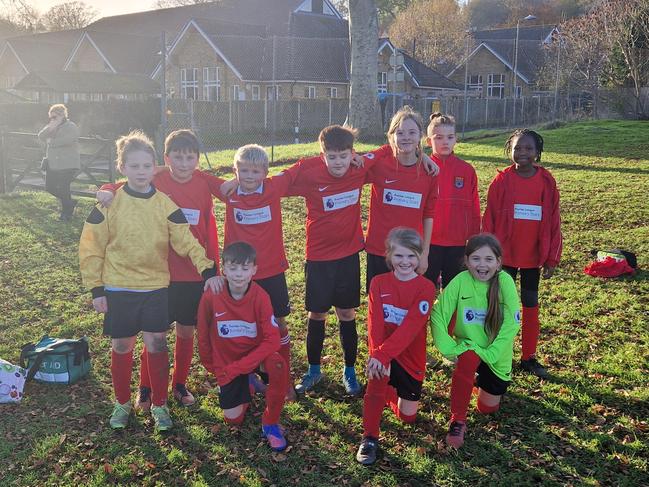 Bikeability Year 5 and Year 6
14th November
Bronze Ambassadors
Playground games
The bronze sports ambassadors have been teaching all the year groups a couple of playground games this month to encourage teamwork and being active during playtime. They have been taking the PE lesson warm-up for years 1-6 and encouraging the St Mary's children to play the games during their breaktime.
Bronze Sports Ambassador
Wednesday 9th November
Hi Five Netball Year 6
Tuesday 8th November
by Lilly
On the 8th of November some of the year 5 and year 6 children went to Sir John Colfox Academy for a netball tournament. They competed against 5 other schools resulting in winning 2 games and drawing 2 games and loosing 1. The team constantly changed positions and were determined to try win most games, and tried their best in every game. Luckily it was a bit sunny but there was a strong wind but they still played through it, the team captain was Lilly year 6 who was proud of how her team played and how they worked together and tried their best. As a result, St Mary's came 3rd out of 5 or 6 other schools.
I personally think it's a good place to come, but unfortunately, they didn't get to obtain the shield like last year's Yr6 did, yes old but gold memories. But at least we didn't come last!!!!!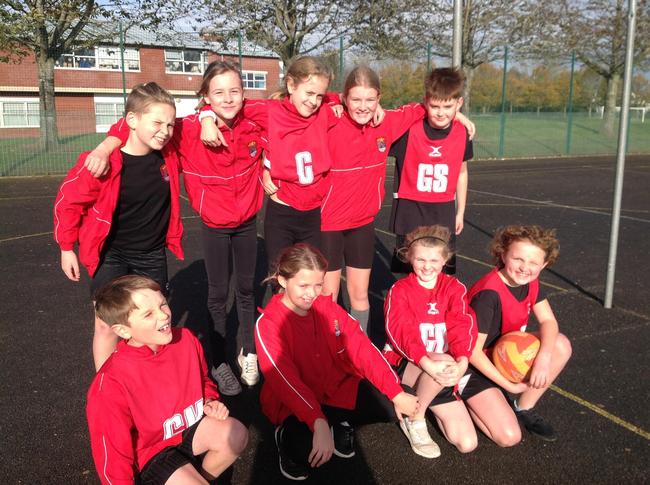 Colmer's Hill Run
Saturday 5th November
The St Mary's children ran excellent races which were benefitted by fantastic conditions. There were two races, the girls ran first and kept an excellent pace, supporting each other the whole way round. The boys race was next and they also ran their very best and continued the excellent effort and sportsmanship. St Mary's had a first and second place.
Tilly 1st
Lizze 2nd
Lilly 8th
Isabel 9th
Joseph 19th
Alistair 27th
- Colmer's Hill run –
By Matilda
During a chilly, Saturday morning St Mary's set off, determined to win the race. 5 Year 6's (Matilda, Lilly, Isabel, Elizabeth, Alastair) and 1 Year 4 (Joseph). First was the girl's race. As Matilda came 6th in last year's race, she was feeling strong willed to score the top 3. It was Isabel's and Lilly's first time competing, so they were hoping for top 10. Elizabeth was also wanting to be part of the top 3, however she wasn't feeling confident! The course was a long run around the hill, at least 1.3 miles. The run was long and painful, as it was extremely uphill. This did not put our runners down though, as they pushed through to take the lead.
Overall Score
We are very proud of our runners, with the top places first:
Matilda – 1st, completing the race in 7 minutes and 13 seconds.
The record from 2013 still stands at a time of 6minutes and 55 seconds.
Elizabeth – 2nd
Lilly – 8th
Isabel – 9th
Joseph – 19th
Alastair – 27th
Even better, was that as all the girls reached the top 10, as a school, the girls' team won! They came back to school with a shield, marking St Mary's first ever win in the Colmer's Hill race.
Tag Rugby Year 5/6
Saturday 1st October 2022
The St Mary's Year 5 and Year 6 team played a great game and kept improving their game with every match they played.
Listening and responding to feedback Stuart was a great tactical player, Lilly was excellent at sprinting and grabbing the tags, making her presence felt, all over the pitch. All the children worked well as a team and showed great team spirit and perseverance.
St Mary's Sporting Events 2021/22
Year 6 Hi Five Netball Tournament
Year 6 Hi Five Netball Tournament
Wednesday 25th May
St Mary's Year 6 children have a win to celebrate. The children had a wonderful time and showed fantastic team work. They played very well and were triumphantly rewarded by scooping the winning goal. To say they were excited is an understatement. Well done for putting your best effort in, both for team working skills and having fun.
Year 6 Tag Rugby
CHILDREN PLAY TAG RUGBY
SATURDAY 12TH MARCH 2022
On Saturday the 12th March 2022, 12 St. Mary's year 6 pupils went to Bridport leisure centre to play a tag rugby tournament against 8 other local schools.
Firstly, teams gathered in the leisure centre carpark and did some practice: passing the ball to each other backwards and forwards and tagging drills. Then they went down to the rugby field to watch 2 games before finally St Marys played their first game. Macy, aged 11, said ''It was cold by the time we started but once we were playing I really enjoyed it - it was very fun.''
In their first game, St Mary's won against Marshwood primary. They went on to win a further 4 games! Will, aged 11, told us that even though they lost against St.Catherines primary it was a close game. Mr Houston, the class teacher and coach, said; "watching St Marys play was so exciting! Every game was really close because our team never gave up and played so well together."
St.Marys school showed excellent teamwork and their observation and speed meant they very often managed to get the other teams tags and turn the game to their advantage. We asked Miriam what her favourite game was and she said''Broadwindsor was my favourite game because the people on the team were very kind and friendly towards us.''
At the end of all the games, all of the students got either a free hotdog or a free burger.
The final scores:
1st. St.Catherines
2nd. Parrot and Axe
3rd. Marshwood
4th. Salway-ash
5th. St.Marys
6th. Mrs Ethelstons
7th. Greenford a
8th.Broadwinsor
9th.Greenford b
Written by Eva Brown
Year 5 Archery
Year 5 Archery
with
A2Z Adventures
As part of their topic work 1066, Year 5 took part in an archery session practicing firing at targets with images of William the Conqueror, Harold Godwinson and a Saxon solider. Although some of the children were hesitant, after the safety briefing, to be using real arrows they soon overcame their fear and thoroughly enjoyed the experience.
Macie
Yesterday, we did archery. It connected to our topic, the Normans and 1066, and because they used bows and arrows, Mrs Rowe got an archer named Paul to teach us. Let me explain how it went. It was in the afternoon, and we started at 1pm. I was in group 4 with my friend Georgia. At 2.30pm it was our turn. When we got to the hall Paul explained the safety rules. No getting arrows until said, and to be sure no-one is behind you when pulling the arrows out. Since we used real bows and arrows. We used our target (which was William the Conqueror).
Ryley
I was probably overly confident, if I was honest but I was wrong, as I missed every single shot at Harold Godwinson the target. I was disappointed. I didn't think I was rubbish but after that I realised it was my stiff jeans!
Year 6 Orienteering
Eva and Mya getting lost despite having a map!
Year 6 Orienteering with Mike Kite
The orienteering was loads of fun. If you do it, I can guarantee you 100% that you'll want to do it again.
The process of it is:
1. You get a tag that you strap to your finger
2. Your partner gets a map and a list of tag readers to scan.
3. You plan out your route 4. You clear the data on the tag and start.
5. When you start you are timed for the 5 readers to tag
6. You can see your time and make up your own challenges
7. After that you can have a break and play in KS1 or KS2
8. If you walk home by yourself, you can go whenever you want until 4:45, or wait for your parent/carer
You can get your scores and try to beat other people. One of the most fun parts is sprinting across the playground, planning your route and the suspense waiting for your score to print. For the first (and last time) I said I would rather be at school than be at home. I was super excited for the next time we do this, at another school.
The people who set it up will tell you everything and are really nice.
In conclusion, 10/10, Amazing.
Year 4 FUTSAL
2 / 4
Year 4 Futsal at Colfox
An excellent day of FUTSAL with a change to the format to a 6 a-side game giving more playing opportunities for the children. Eight schools took part, and all all showed great sportsmanship and attitudes throughout.
KS2 Cross country individual races.
KS2 Cross Country Individual Races
Boggy, wet conditions meant for a very fun afternoon, lost trainers
and
funny false starts!
The runners that went to Beaminster cross country individual races showed such a fantastic team effort, they showed great kindness to each other by encouraging and giving positive comments when others were struggling.
The St Mary's children all finished their races, even though they were exhausted and realised they might have been one of the last to finish. The St Mary's team members ran along the last stretch with some of the children to help keep them motivated, encouraging them to keep going and cross the finish line.
Even though we did not win anything the children's positivity and endurance shone through.
Kenway Cup
Year 5 and 6 Kenway Cup match
On Wednesday afternoon 10th November 2021 Year 5 and 6 participated in the second pool of the Kenway cup tournament at Bridport Primary.
The first game was played was against Parret and Axe and started off well with both sides looking like they were evenly matched until Parret and Axe scored their first goal. However, before the finial whistle St Mary's managed to score a goal making the first game a draw.
With each game being just 16 minutes the children realised how quickly the time went and were spurred on to move more quickly. St Mary's second game was against Greenfield and both teams showed great determination to score some goals and it proved to be an exciting match to watch. St Mary's scored a great goal from far out in the field but soon after Greenfield equalised. This didn't dampen the team spirit and our St Mary's team kept up their motivation to play an excellent game. Unfortunately, Greenfield went on to score two more goals so the finial result of that match was 3-1 to Greenfield.
The next match was against St Catherine's and even through the Year 5 and 6 children knew this was going to be a tough match, with an encouraging chat from Mrs Randall and Mr Holmes-Good, the children from St Mary's showed great team spirit to play a great game using some excellent skills and endurance. The St Mary's team showed some great passing, team work and communication and finished the match on 5-0 to St Mary's.
The children had played three games straight after each other and were beginning to feel tired but gathered their strength and determination to play a game against Mrs Ethelston's Primary School. St Mary's defended well in this game as Mrs Ethelston's were a strong team to play and the children's legs were feeling tired and they finished 2-1 to Mrs Ethelston's.
The finial game was against Broadwinsor and with a change to St Mary's goalie and another sub change the children felt a renewed surge of energy. They relaxed into the game and passed the ball around showing more great communication and defending skills. The match finished to make it 2-0 to St Mary's.
Well done St Mary's you showed great team skills and determination.
Bronze Ambassador Training
Bronze Ambassadors
Year 5
Some Year 5 children were chosen to represent St Mary's and help to promote an active school lifestyle. They spent the day at Redlands Community Sports Centre and were given lots of help to train them to become confident ambassadors of being active. They were taught why it is important to be active, games to play and teach other children, how to lead a group of children and facilitate them to start their own games and decide how they were going to promote activity in St Mary's. As a group they decided that they wanted to create an activity festival afternoon as a whole school event and also start a weekly games and skills club for KS1 and KS2.
Below are their reviews of the training and the day.
Jack
What I enjoyed about the Bronze Ambassador Training was learning new games such as Switch, Rock, Paper, Scissors and the Plate Game.
I learnt that sports are important to keep you healthy as well as being fun!
At school I hope to teach children the importance of exercise and sport. I also want to teach them the new games I have learnt.
Ryley
The day: The day was the best experience ever. There was so much to do and learn, technically just fun!
What did you learn?: I learnt many things but if I had to choose I would say I learnt about the rules. Also that it has to be fun and that you need one hour of exercise per day.
What will you do with the training?: I will make the next generation sporty with all my friends.
That's why Bronze Ambassadors helps a lot!
Matilda
What did you enjoy about the day?
I enjoyed learning lots of new games, having fun and seeing friends from other schools.
What did you learn?
I learnt a lot of new games like Switch, Rock, Paper, Scissors and a plate game.
What will you do with the training?
I will encourage people to enjoy games and sports.
Emelia
I enjoyed making a workshop so we could get all the classes out and show them what we have learnt.
I learnt how to make a workshop, make our own games and showing what games we can do.
I will bring the training to school and show the classes about what we learnt and what they taught us.
Kacper
What I enjoyed was that we had fun activities that we can remember and bring the ideas to our school.
We learnt how to be a good representative for the school and how to act like one.
With the training we can always take ideas from them and make our own. We can add to them and make them bigger and better.
Perry
We (eight people in our class) went on a trip by coach.
It is my belief that it was to a college ibn Weymouth but it may not have been. When we were there we did many fun activities. I think my favourite part was when we used a cone and a bell to make our own games. I think in the future I will use the training for Sports Ambassador related thins in my school.
Georgia
I enjoyed all of it but my favorite thing was the catching and throwing game that Isabel, Matilda, Emelia and I did. We called it Switch Up. I Iearned a new game to teach people at school and other place. They are really fun - honestly! I will take what I have learnt back to school and teach people exercise for 60 minutes a day and to eat healthily. I will teach them first be healthy and second be fit.
Isabel
What I enjoyed about ambassador training the most is that when we were doing the activities we mixed with lots of other schools and used teamwork to complete them.
What I learned
I learned to be a leader.
I learned new games to teach children how to play.
I learned to keep active and do lots of exercise.
I learned new ways of keeping your body healthy.
I will teach other children how to play new games and stay healthy and active. I will also teach them how to use teamwork and believe in themselves.
Bikeablity
View large version of image
View large version of image
Year 5 and 6 Bikeability
In October the Year 5 and 6 children had the opportunity to participate in the Bikeability scheme which is a cycle training programme that teaches children practical skills and gives them the understanding and expertise they need to ride their bikes on the road. Some of the Year 5 children have given an overview of what they learnt over the course.
Elizabeth
Before Bikeability you will need to check the
In level one we just rode on our bikes around the playground, practising basic things like learning how to use our brakes and how to signal.
In level two, first we were practising on the road to check if there is anything coming and stop on the road. Then we went to practise some U turns and signalling. We learnt how to ride a bike safely on the road. With the training we will be able to ride our bikes long distances and after each level we got a badge and a certificate.
Joey
On level 2, I enjoyed being outside. I learnt more bike skills and all about bike safety. Now I will do more bike rides and be safe.
Jacob
I enjoyed Bikeability because it is doing what I enjoy to do for a day. I learnt how to ride on the roads safely. Using the training I will soon be riding my bike to most places.
Year 6 Sailing
Year 6 survive and thrive at sailing!
On Tuesday the 14th of September 2021 25 children, two teachers (Mr Samuel and Mr Holmes-Good), one mum (Ms Brooke) and one dad (Mr Andrews) tried sailing RS zest dinghies at the Weymouth and Portland National Sailing Academy.
Before they could begin the children had to get prepared. Many children were complaining about how the wetsuits were a struggle to get on and how they were very hot inside. Once they were in the right kit, the kind and helpful instructors taught them how to set up their boats.
Getting on the boat was a struggle the children were complaining about how cold the water was as they got into their boats, but this was soon forgotten as they sailed along.
Many of the students went straight out with their sailing partners but some students were more cautious. Mya - a fearful student who went sailing –said "I was very scared but a lovely instructor called Katy helped me to get back out onto the water by making me think that Hogwarts (my dream school) was on the other side."
Thanks to the Rod Shipley foundation children only had to pay £5 when the sailing normally costs £35! The children loved the experience of sailing and they all said how they wanted to try it again, but they did complain about how cold they were after jumping around in the sea!
By Lacey Rowe and Eva Brown